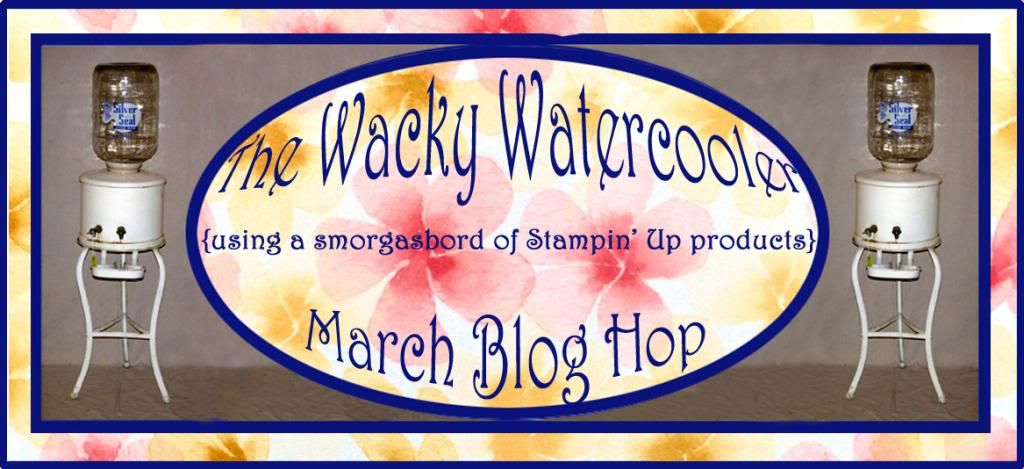 Welcome to my stop on the March Wacky Watercooler Blog Hop! If you're new to my blog you've probably come over from Gail's blog, and welcome! For those that are new to blog hops, you can go forward and backward using the water cooler buttons at the bottom of this post to check out the 15 lovely ladies around the world that have put up posts featuring a smorgasbord of Stampin' Up! products and projects.
My first project is using some designer series paper (DSP) that I just love. When I first saw the new occasions catalogue, the whole Retro Fresh collection just jumped out at me as something I had to have, and I've finally gotten around to using it in the last little bit. This card features one of my favourite pieces of DSP from the collection. It's a pretty strong pattern, so I didn't want to overwhelm with too much stamping and embellishments, so I kept it fairly simple.
One of the things I love to do with all my cards, and I often forget to show, is do something on the inside too. Not only does it make the card more interesting, but it helps it stand up on it's own too by adding some extra weight to the back half! I usually just use scraps of DSP and card stock to keep it clean enough to write on, but still special.
Last but not least, here's a photo to show of some of the awesome dimension I got using well... Stampin' Dimensionals! I love how the wooden arrow embellishment pops up and over the DSP, and you can never go wrong with candy dots to match.
My second project features some more designer series paper (DSP) I love. This time I used the Watercolor Wonder collection to make this bright and cheery birthday card. I watercolored the flower with a blender pen and popped the tag (made with the new Scallop Tag Topper Punch) up on dimensionals. Because why not!
Once again, I decorated the inside to match the outside. A little simpler this time, but this is one of my go to layouts for the inside of cards that have DSP on the outside.
And a little detail because I love this banner set and finally tried using a marker to colour in some of the lettering. I love how it turned out!
So pop on over to the next blog on the hop (KatheD) and check out the rest of the stops along the way! If you'd like to buy any of the products featured in my card, or anyone else's project, get in touch with any Stampin' Up! Demonstrator to place an order.